Radio Bassment's What's Happnin Wednesdays
I hope everybody is finally over their Cinco De Mayo hangovers. If not, you got more problems than we can help with. In the meantime, catch up on all the latest in entertainment, music, and tech news right here on RadioBassment.Com.
Dillon Francis is a huge name in the EDM world. His unique sound between eletro, deep house, and moombaton does require some getting used to if you're new to the electronic music scene. But this week on Jimmy Fallon Live, he and Chris Rock hilariously critique a track by Dillon Francis & Kill The Noise called Dolphins on Crack. Check out the video below.
Not all fun a games this week though…Producer and DJs, Lil Jon and DJ Snake are faced with a law suite claiming they ripped off the 2013 hit Turn Down for What. Rapper Feddie Gz claims that the two mega star producers ripped him off, and now he's looking for a pay out. Listen to both tracks below, what do you think happened?
How confident is your shooting game? Enough to put 100K on the line over a game of knock out? Rap stars Chance the Rapper, the boys of Migo's and Myles Turner of the Indiana Pacers did just that. From the looks of it, Quavo seems to have a pretty decent jump shot. He did beat out Myles Turner, but don't expect Quavo to suit up in the NBA anytime soon. Check out the video here!
Obviously these A-list artists have some money to throw around, but not often do we see them do any anything that can impact a community. A few months back Chance the Rapper donated one million dollars the the Chicago public school district which gained major headlines. Nicki Minaj took to Twitter to let her fans know that if you have straight A's and can verify with the school, she will pay your college tuition. Shout out to our girl Nicki for doing some good with her money.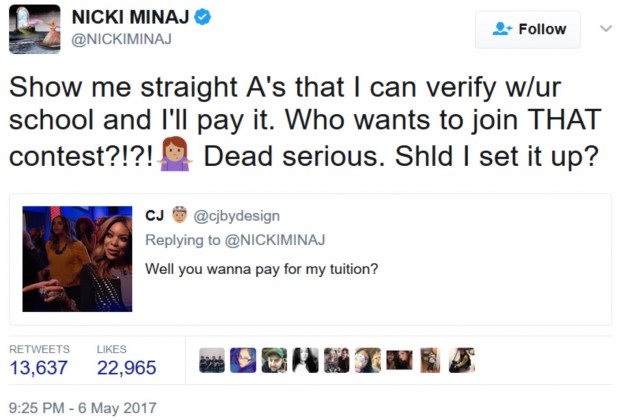 Last night MTV hosted their annual MTV Movie & TV Awards. The night was packed with appearances and performances by Noah Cyrus, Pitbull, Big Sean and many more. Winners of the MTV award went to blockbuster hits like Fast & Furious, Beauty & the Beast, and Star Wars Rouge One. See the complete list if winners here!